Meet Dr. Pham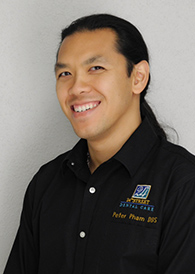 Dr. Peter Pham is a native Texan. After graduating from the University of Texas at Austin, he received his Doctorate of Dental Surgery from the University of Texas Health Science Center Dental School at San Antonio.
Dr. Pham has served as the Director of a Community Health Center and as a community leader, he performs mission work with the Christian Medical and Dental Association helping provide services to the under served. Dr. Pham promotes San Antonio's music economy and culture as adviser to the San Antonio Sound Garden, which is a nonprofit city initiative that sponsors local musicians.
Dr. Pham performs a wide variety of dental procedures using the latest equipment, dental techniques and advances. Caring for all ages, he provides a personal and trusting, high quality dental experience for every patient.
Dr. Pham and his wife who is also a dentist have a daughter. He enjoys writing and playing music as well as hiking, camping and outdoor activities.